Joe Guerin
Tenor & Bari Saxophones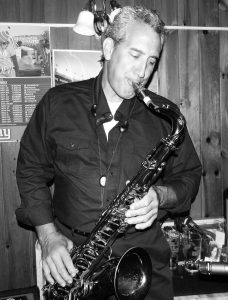 Joseph Rock Guerin is an instrumentalist who specializes in Baritone, Tenor, Alto, and Soprano saxophones. Joe, a dedicated player who has always been intrigued with the sax, recalls it all starting on one notable rainy day back when he was just nine years old. Totally housebound and overly bored, he and his brother were looking for something to occupy their time; so, they began snooping through their Parents' attic. This is when Joe discovered a dusty case peeking-out of the far back corner. He crawled-in to pull it out; then, he wiped off the dust, flipped open the latches, and to his surprise a beautiful "Gold Saxophone" was before his eyes. He further learned from his parents that his uncle had stored it there while he proudly served with the U.S. Navy. It was that one gazed-eye moment that unleashed Joe's inner ambitions and began his love affair with the saxophone. His musical journey began with this sax (his uncle now gifted to him) and the unique sound it produced. He later moved forward grasping several different genres that include Jazz, Big Band Swing, Funk, and Rhythm & Blues.
 
Joe emphasizes along with many hours of practice that listening and transcribing recordings of influential saxophonists is a major factor in his playing. His most impressionable artists include Tom Scott; Bob Berg (1951-2002); Michael Brecker (1949-2007); and local Jazz Bebop master, Nick Brignola (1936-2002). Nick, an internationally acclaimed Baritone Saxophone sensation, lived just across the Hudson River from Joe in Troy, New York and was his first mentor!  Joe further studied with accomplished saxophonists, Marcus Benoit and Eric Walentowicz. He is currently studying with music professor and celebrated saxophonist, Dan Faulk.
 
Joe has performed locally with The Bronte Roman Latin Pop Band, The Dan Faulk Quartet, The Jazz Essentials, The Greg Nazarian Big Band, The Colonie Town Band, The South Colonie Friends of Music, The Rensselaer Yankee Doddle Marching Band, and his newest collaborative enterprise – The Downtown Horns.
 
Sharing beautiful music with his audience and captivating them in a moment is something Joe personally strives for. This keeps him very busy honing his skills and perfecting his favorite passion; and just think, it all started with that first saxophone he still cherishes to this day!