Paul Supple
Bass Guitar & Vocals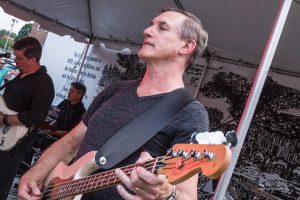 PAUL SUPPLE, DIRECTOR AND BASSIST – DOWNTOWN HORNS
My sweet mother, God rest her soul, bought us a baby grand piano when I was in 3rd grade. She had one in her living room when she was a child and thought her kids should have one too. Looking back, what a wonderful gift that was – the gift of music! There's a lot that happened between now and then. I took music lessons on piano, guitar, and trumpet. I played trumpet in school bands in junior high, high school, and college. I also was able to play music by ear starting at an early age – music just made sense to me. But the thing I enjoyed the most as a young person was playing along with pop tunes that I would hear on the radio by ear on piano, guitar, or trumpet.
I won my high school's senior music award, but, much to everyone's surprise, I went into engineering instead of music (I was also good at math and science). When I graduated from RPI, I worked as an engineer during the day and at night started playing trumpet with Doc Scanlon's Rhythm Boys which played jazz from the 30's and 40's at the time. They never had a trumpet in the band before. I played with them for 2 years before my employer transferred me to Indiana.
In Indiana I joined my first rock band Catch 22 playing mostly rhythm guitar and singing but played some bass and some lead guitar too – I was 24. We played classic rock and country. Our bass player worked Friday nights, so we needed a bass player to play Friday nights. I never took bass lessons. I played it at RPI for a few weeks in the pit orchestra for "Pippin" because they couldn't find a bass player. Bass strings are tuned the same as the four lowest strings of the guitar, and it was a reading gig, so I could do it. Catch 22 played as a power trio with me on bass on Friday nights. On Saturday nights I played guitar in the 4-piece version of that band. Catch 22 ended a year later when I was transferred back to the Capital District, but my rock bass chops had been established. I rejoined Doc Scanlon's on trumpet for a year or so but then took a vacation from music altogether to get an MBA at night.
From 1990 to 2010 I led the jazz quintet Jazz Factor playing bebop, hard bop, standards, Latins, and other jazz styles emulating Miles, Dizzy, Coltrane, Monk, and the like. I had the privilege of playing with the finest jazz musicians in the Capital District. During this time, I was also a member of Mulligan Stew, a quartet inspired by the west coast jazz sound of Jerry Mulligan led by saxophonist Paul Couch. I appeared on the only CD that this band released entitled "Mulligan Stew" in 2002. For a multitude of reasons, I gave up the trumpet in 2010 and migrated back to piano, guitar, and bass. I played in many many rock bands since my jazz days either playing guitar and piano, or playing bass. The bands included: Grateful Dads, Big Adventure, Steel Horse, Anger Management, Tequila Rose, Alter Ego, The Switch Band, Bearsville Logic, Familiar Territory, Snap, Jonesville, What is Hip?, The Reverberators, Wide Awake, and now Downtown Horns.
I started Downtown Horns in 2017 because I love bands with brass sections (e.g. Chicago, Earth Wind & Fire, etc.) from the 60's and 70's and they weren't getting played much by local bands. Since I was a former brass player and a music reader, I understood how to write and arrange horn music. So, as a service to the community, and to serve my selfish desires, I present to you Downtown Horns. I am sure that you will enjoy this group of fine musicians, and the very special music that we play!