Steve Lambert
Trumpet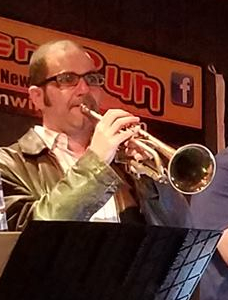 Steve Lambert, born and raised in Schenectady NY, has been playing trumpet professionally in the capital region for over 15 years. Early in his career he performed with and learned from some of the best musicians in the area including Nick Brignola, Mike Canonico, Rennie Craine, Mike Wicks, George Muscatello, and Brian Patneaude.
Steve moved to New York City in 1999 to pursue a Bachelor's Degree in Mechanical Engineering from Columbia University, after which he worked in the office of Second Floor Music for two years as assistant to world-renowned jazz trumpet player/arranger/producer Don Sickler. While on staff at SFM, he interacted with such legends as Jim Hall, Renee Rosnes, Charli Persip, Ray Bryant, and Rudy Van Gelder, and worked on many SFM publications including "The Thelonious Monk Fake Book", "Sing Jazz!", and Charli Persipi's "How Not To Play Drums." Steve also freelanced around Manhattan, working at such jazz clubs as Kavehaz, Louis, and The Garage, and honed his chops while frequenting many jazz jams around the city including those at Smoke, The Lenox Lounge, Smalls, and Cleopatra's Needle.
He returned to the Capital Region in 2003 and has since been hired to perform with The Temptations, The Four Tops, Aretha Franklin, Gladys Knight, Johnny Mathis, and Frankie Valli. He was on staff in the pit of The Cohoes Music Hall from 2004-2006 where he played 2nd trumpet for West Side story, lead trumpet for A Chorus Line, Annie, La Cage Au Follex, and Ain't Misbehavin'. In the commercial/club date vein he has performed with City Rhythm, and the Karen Lawrence band. He currently performs with: the Empire Jazz Orchestra, the Big Soul Ensemble, the Silver Arrow Band, the Ragtime Windjammers, the George Muscatello Quartet, Dave Fisk/Jon Leroy Quartet, as well as projects under his own name.